INVITATION
The Aurelio Peccei Lectures & Dialogues-
Enquiries on the Challenges of the 21st Century
98th LECTURE
Wednesday 28 June 2017
at 18:00 sharp
Doors open at 17:30
---
Sustainability Now
Necessity and Opportunity !

by Karl FALKENBERG
Senior Advisor to the European Political Strategy Centre (EPSC) dealing with
Sustainable Development
Discussant: Dr. Anne

SNICK


Board member, The Club of Rome

EU

-Chapter
Moderator: Sandrine

DIXSON

-

DECLEVE


Senior Advisor, Corporate Purpose, Sustainability, & Low Carbon Solutions Fellow, The Club of Rome

Terrorist attacks, populist leaders, destabilised societies or outright failed States, 60 million people fleeing their homes, worse storms, more flooding, higher temperatures, less water and more desertification, fewer forests and less biodiversity, alarming stresses on our nitrate and phosphate cycles, deeper divisions in income levels, associated to better information systems and yet the emergence of more destabilizing fake News, the signs are there to read for all of us!
With more knowledge, why can we not come to better Governance?
Europe had a tradition of sustainable development. It is a construction of peace and has brought nations together since the end of World War II. Yet our own trajectory is unsustainable in many policy areas. Towards the end of the last century, our policies have moved away from social market economies towards cut throat competition, leaving in EU alone 120 million people at risk of poverty. And digitalisation and robotisation are just beginning to show their effects.
The EU was in the lead at UN level for universal Sustainable Development Goals and fight against Climate Change. It has a responsibility of returning to policies that place Sustainability in the centre f its Governance! We need to come back to inclusive policies, fairer distribution of wealth produced within the limits of our planet!
It can be done!
VENUE

:
Fondation Universitaire/Universitaire Stichting, rue d'Egmont 11 Egmontstraat,
1000 Brusssels. Room Felix Cattier. Doors open at 17:30.
Metro & buses: Troon/Trône

Attendance is free, but electronic registration before 27 June is compulsory. See attached reply form.
Networking drink after lecture: CoR-EU members 12 €, students 12 €; non-members 20 €
to be paid before 27 June on bank account BE16 7470 0377 8074 with mention of your name.
Registration is closed
The lectures are delivered by distinguished expert speakers with various backgrounds. They are followed by a dialogue with the audience. Drinks and informal get together afterwards allow for networking and exchanges of views. The cycle of lectures is named after Aurelio Peccei (1908-1984), co-founder of The Club of Rome in 1968.
Video of event
Pictures of event

The Annual General Assembly was held before the 98th Lecture. A general view of participants.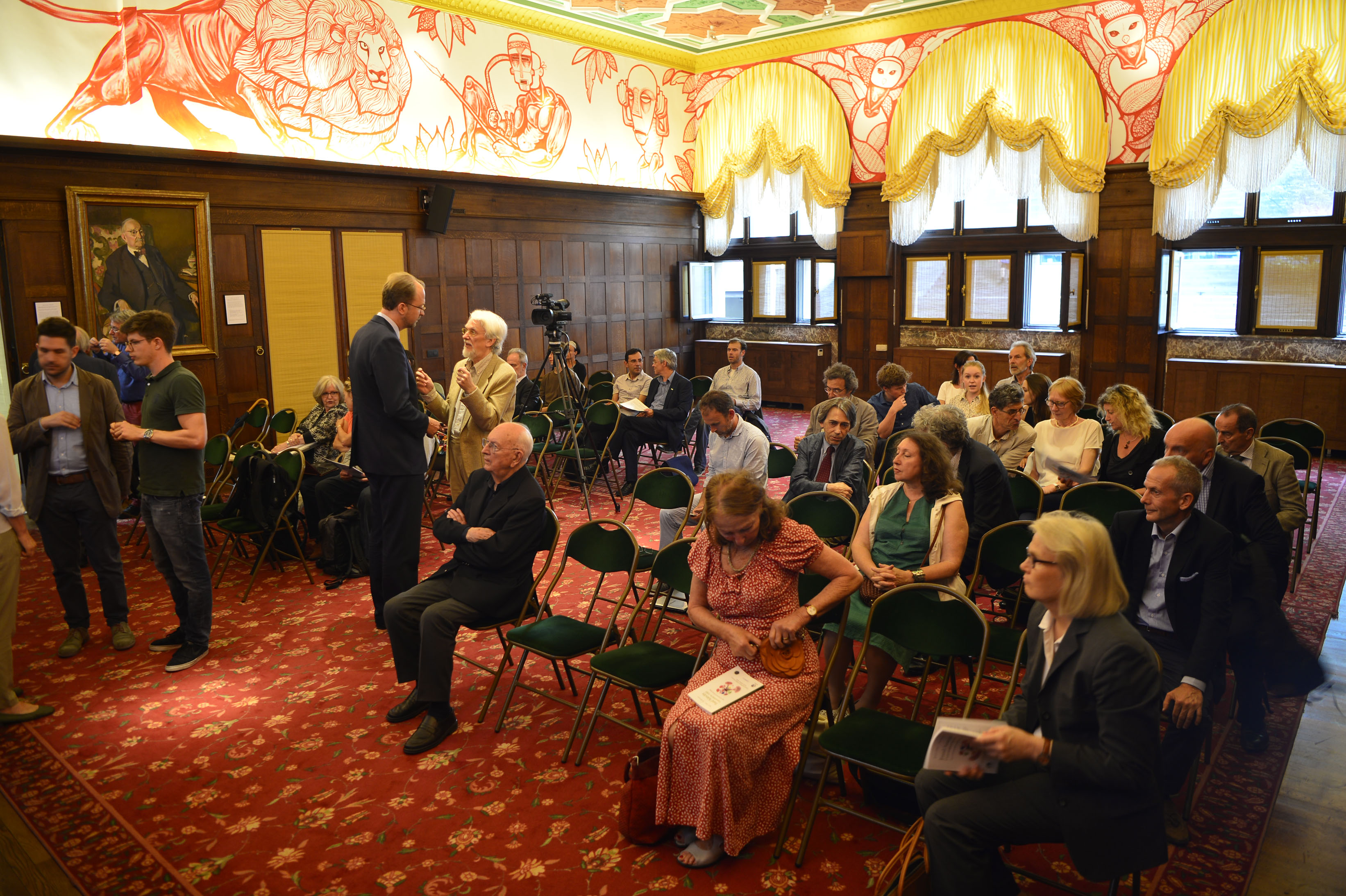 The Executive Committee: from l. to r.:
Vice-President Guido De Couvreur, Treasurer Valerie Tanghe, President Mark Dubrulle, Secretary Sergi Corbalan.